Need more attention to your business ?
Flags will do the job !
Flags , or feather flags are a light-weight, easy to use marketing tool that give you fantastic results bringing  awareness to your cause or business.
Feather Flags also are ideal for street-side promotions, automotive vehicle dealers, fitness centers, gyms, retailers, fast service restaurants and more.
Our custom flags  are created out of a light-weight aluminum , tear-resistant and printable nylon material,that is nice for custom graphics, placed on light-weight poles that are simply placed within the ground.
These sturdy, custom flags are a unit simple to move and install.
The easy style permits business owners to simply replace the fabric to use it in more than one occasion if nedeed.
We offer predesign and custom flags in a range of different shapes and sizes to suite your needs.
Superb quality and value for your money are our key drivers in delivering eye catching Advertising Flags.
Predesign Flag $130.00   each.
Custom     Flag  $200.00  each.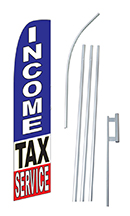 Call us now    561 649-2502